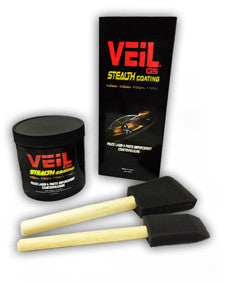 Laser Veil G6 Anti-Laser Stealth Coating
$ 97.95
Improve Radar Detector Laser Results with Veil
Enhances your privacy and can complement a radar & laser detector
Revolutionary next generation provides increased performance and is barely noticeable when applied.

Veil G6 provides long lasting protection.
Improves performance of radar detectors.

One container of protects up to 4 vehicles and works on motorcycles too.

Can save you thousands of dollars in fines, points and higher insurance premiums.


Pays for itself with just one save.
Benefits:

Protects you by absorbing laser and giving you precious additional reaction time
Enhances privacy
Protects your headlights from long-term UV damage and oxidation, keeping them looking like new

Veil is a nearly colorless transparent liquid acrylic which dries into a hardy, but easily removable, weather resistant film. It is designed to absorb infrared light making it more difficult for your speed to be measured.

 
It is easily applied to the reflective surfaces of your motor vehicle — the headlights, fog lights, and license plates. There is enough material provided to treat on average three to four vehicles bringing the total cost of ownership to around $25-30 for each vehicle.



Package Includes:
One Container of our Veil G6 Stealth Coating
Two Foam Brushes (1" & 2" Sizes)
User Guide